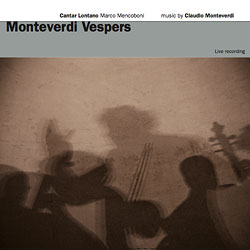 "[...] The CD which E lucevan le stelle devoted to Monteverdi's Vespers is finally available. The double SACD will be circulated internationally by leading distributors, while the E lucevan le stelle Music Store presents a version you can download in two formats: high-resolution MP3 and Apple Loseless. The in-depth research work carried out by the Cantar Lontano team restores to us an inspired vision of this monumental work of the early Italian Baroque. On classicnews.com Benjamin Ballifh writes:
«Les Vêpres miraculeuses de Marco Mencoboni
... Il est certain que l'on n'écoutera plus de la même façon les Vêpres de Monteverdi, après l'apport de Marco Mencoboni. Chapeau maestro!»
Full documentation on the work done is available on the Cantar Lontano YouTube channel. [...]"
Leggi tutto sul sito ufficiale di "E lucevan le stelle"...